PAST WORK
Felix Conran's Wobbly Mirror (2016)
This is a prototype mirror currently made out of perspex - it will soon be made out of copper and steel for retail. This idea came out of my boredom of straight lines.
I have an issue with minimalism, and that is, if your goal is to have as little happening as possible, you will eventually end up with nothing. Where's the joy? Where's the fun? Where's the excitement? You're left with nothing but boring white boxes.
So, with this in mind, I decided to design an imperfectly shaped (wobbly) mirror - the shape is based on a pebble I found on a beach in Dorset earlier this year - that doesn't try and perfect the reflection, nor attempt to be minimal.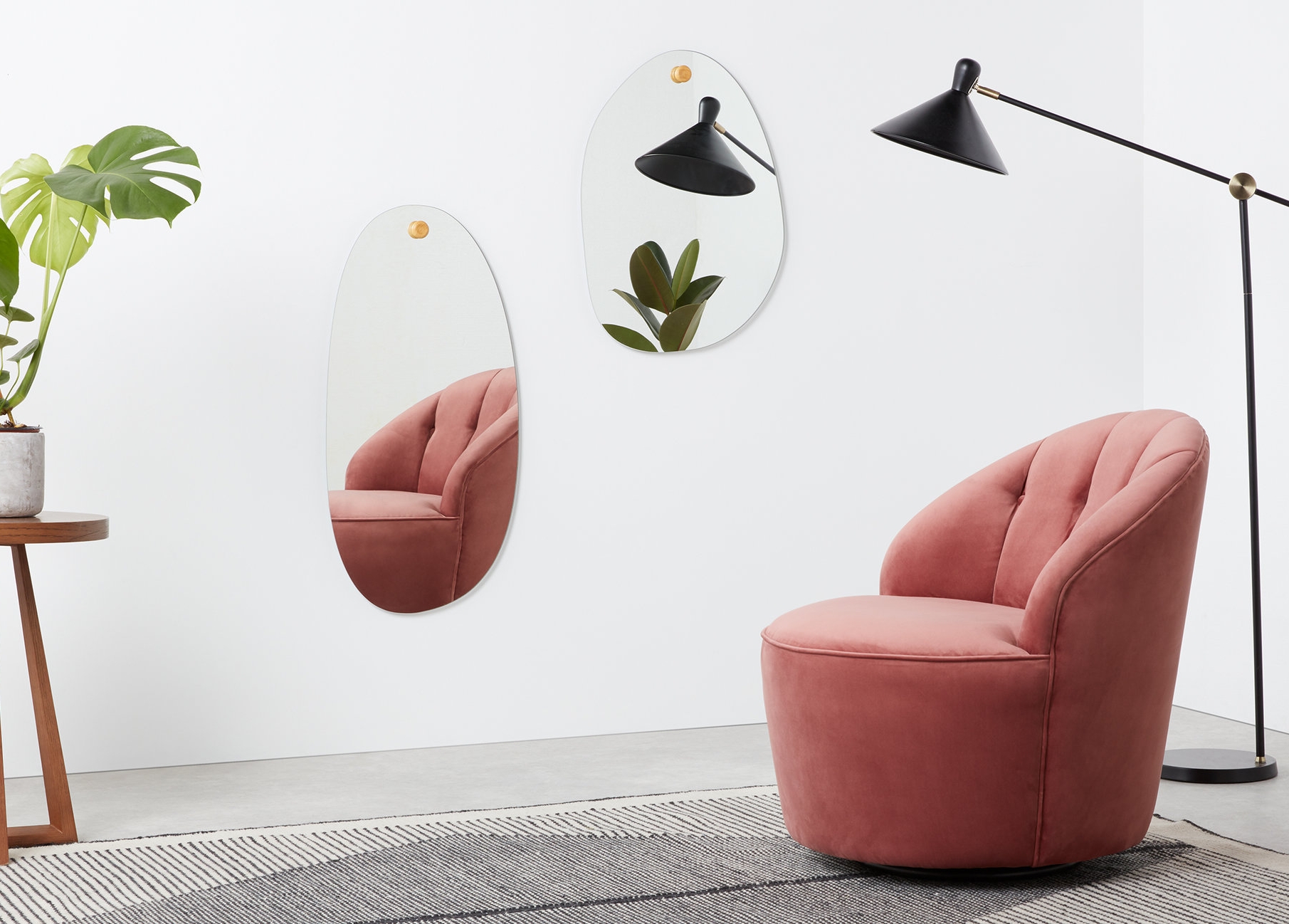 JOSEPH X CLAMcollective (2014)
This is CLAMcollective's special edition of the LIGHTLY desk lamp tailored for JOSEPH fashion in 2014.
The light's head is cast in brass from a 3D print and the body is chemically treated to turn the acid cut steel jet black, whilst the base is water jet cut from a solid 8mm brass sheet. As well as this, the head and base were both given a generous coating of gold. They are a limited run and only three were ever made.
Felix Conran for OHYO (2015)
I designed this bag for OHYO - the brief was to have a bag for commuters that could be small enough to hold a tablet but could expand to be able to used for a weekend away, or to do your shopping with. It truly is a case of one bag fits all.
Recently I carried three dozen bagels home using it.
Watch the video here (directed by Paul Nethercott) if you're still not convinced.
You can get yourself one here.
Felix Conran Paper Tray for HP
This was a promotional project done for HP's Sprout Computer. THe computer has got a 3D scanner built into the machine and a touch mat on the physical desktop. I saw this machine as a potential step away from the designer working on paper because it might cause it to become obsolete.
I scrunched paper up into a ball and started scanning it to achieve an interesting functional shape. When I had a scan I was happy with, I took that into a CAD software and generated a two-part mould. At my Hackney studio, I then 3D printed this mould and used it as a pressing tool to make the wooden tray you see pictured.
BOROS SIDE TABLE
Side Table designed for Maker&Son
LIGHTLY by CLAMcollective (2014)
This was CLAMcollective's first project; LIGHTLY is a predominantly acid cut sprung steel lamp with a 3D printed head and acrylic base. We designed our own circuit board to be housed inside the head and we managed to exhibit it at London Design Festival in 2014 and had a limited edition version commissioned by JOSEPH, the fashion house.
It was packaged in a giant crisp packet with the components of the light listed as ingredients on the outside of the packet.
LIGHTLY was generally a success bar a few mishaps in manufacturing; tears were shed and lessons were learned. Since, CLAMcollective has disbanded and each of us have gone on to pursue different things.
TIMEPIECE for Heal's (2015)
This is a gigantic analog-digital-chandelier-clock made using 29 filament bulbs commissioned for the opening of the Queensway Heal's store (London). Designed and made by some friends and I, under the name CLAMcollective, this timepiece (also aptly named "TIMEPIECE") was one of a few products we made together in my first studio in Hackney.
We overcame a big problem which was that each filament bulb had a 10,000 cycle rating, meaning it could turn on and off only 10,000 times before it blew. This is fine for normal use but we wanted one of the bulbs to flash every second. We found out that this would give us a mere 3 hours lifetime for that bulb. So, with our clever programming, it flashed for 5 months before it popped its clogs. In the end, we ended up getting 14,000,000 cycles out of a 10,000 cycle bulb. Not bad, eh?
Product specification:
- 29 x 30cm 60W filament bulbs
- 2m x 1.5m x 0.6m
- 1 x Arduino Mega
- Loads and loads of linen covered cable
Felix Conran's Wallet for SLC (2015)
Sackville Leather Company makes wallets out of off cuts from high end handbag manufacturers with the result being cheap but exceptionally high quality leather.
They commissioned me to design a wallet, and I did so using a single piece of leather and only two lines of stitching.
Felix Conran's Broken Bowls (2015)
I broke my femur on April Fools Day 2015 (what does that make me?!).
I did this skiing in France and will always have a 34cm rod of titanium inside my leg as a result. When I finally made it back to London after a week in a French hospital I was straight into the workshop.
For every day that I could not walk, I made one of these bowls. As you can imagine, the first one I made was excruciatingly painful and therefore the most rushed, but as my strength built so did my ability to hop and balance, until I was tentatively standing on two legs again.
The bowls were made from very fresh green oak and as they dried they would miss shape, distort and crack, like my leg.
Felix Conran's Chunky Candles (2015)
Here are a set of two turned oak massively chunky heavy big bad boy candle sticks. I did make three of these, but I accidentally set one of them on fire...
Felix Conran's Lemon Bowl (2015)
I nearly tore my arm off making this.
It's a big lovely heavy oak bowl (dimensions are 250x350x80mm) made with a seriously scary machine.
The lemons in this photograph I brought back from Turkey last year. Carrying them as my hand luggage, it was a very funny moment putting this overflowing bag of fruit through the X-ray machine...
Felix Conran's Digital Vases (2015)
Three of the four vases in this set are glass blown by me into a mould that I made using a 3D print. Basically, I designed a vase, 3D printed it, poured plaster over and around the print, cut it in half and removed the plastic and then blew glass into it.
To make sure that there was no moisture in the plaster whatsoever, I put it in the oven for a few days on low heat. Instead of the perfect precision print that I expected, new and unpredictable forms emerged, which were quite beautiful.
The fourth vase in the set is hand made without the mould at far greater accuracy to the 3D print than the others.
Herein lies the idea, and the paradox that ensued: I strived to manipulate a tried and tested ancient craft by introducing a new technology, but rather the opposite happened, my high tech mould was the thing that was shaped rather than the glass.
53 Walls